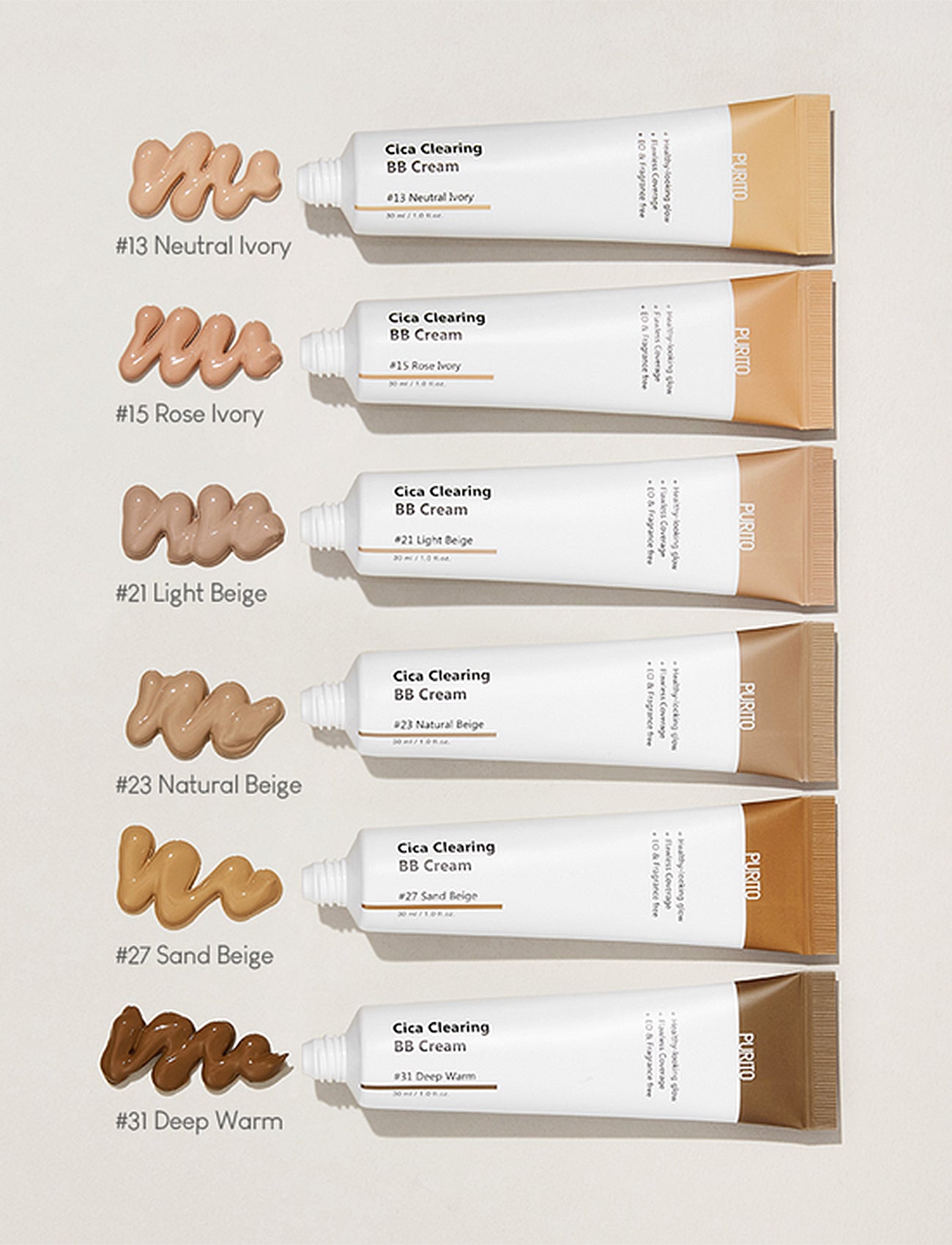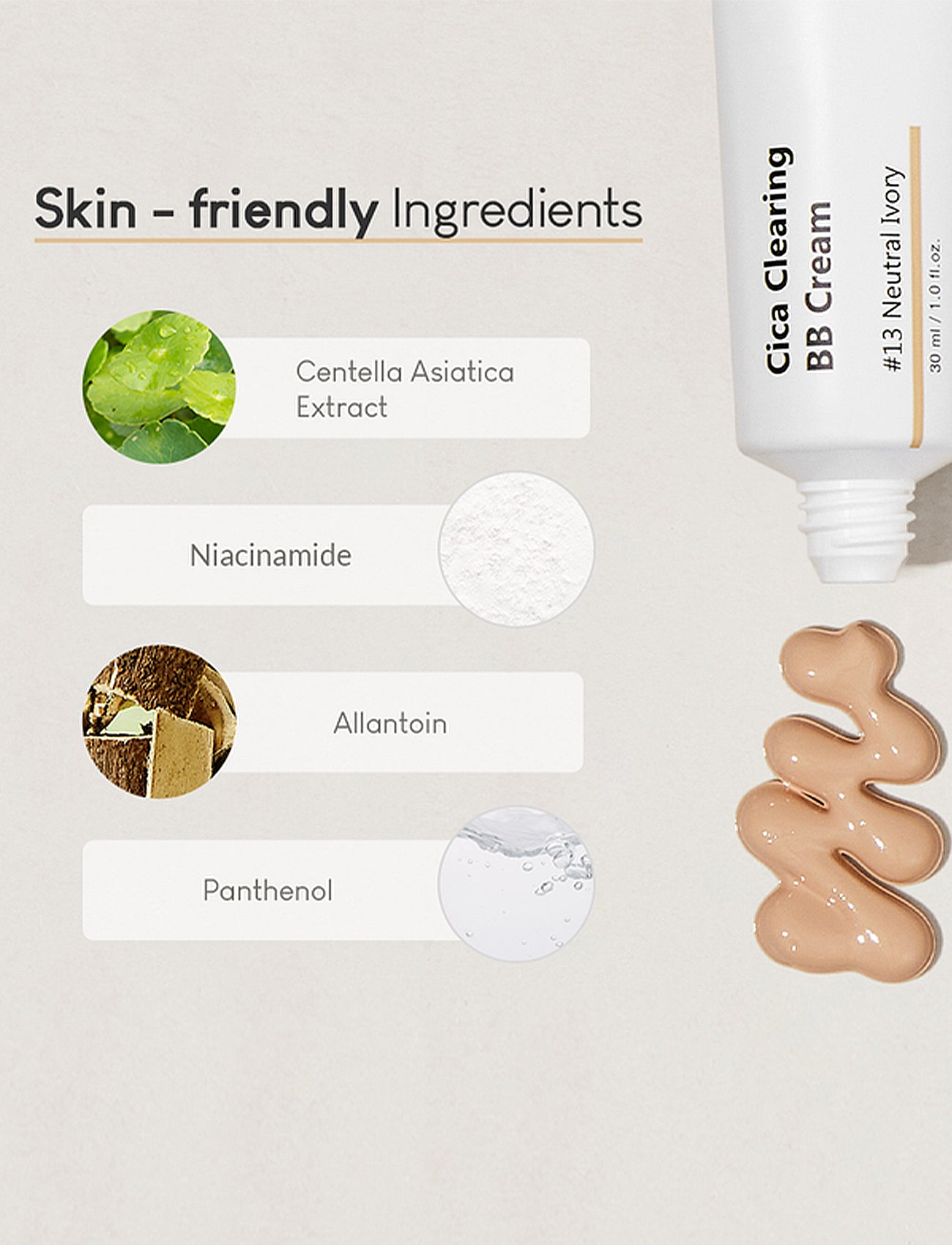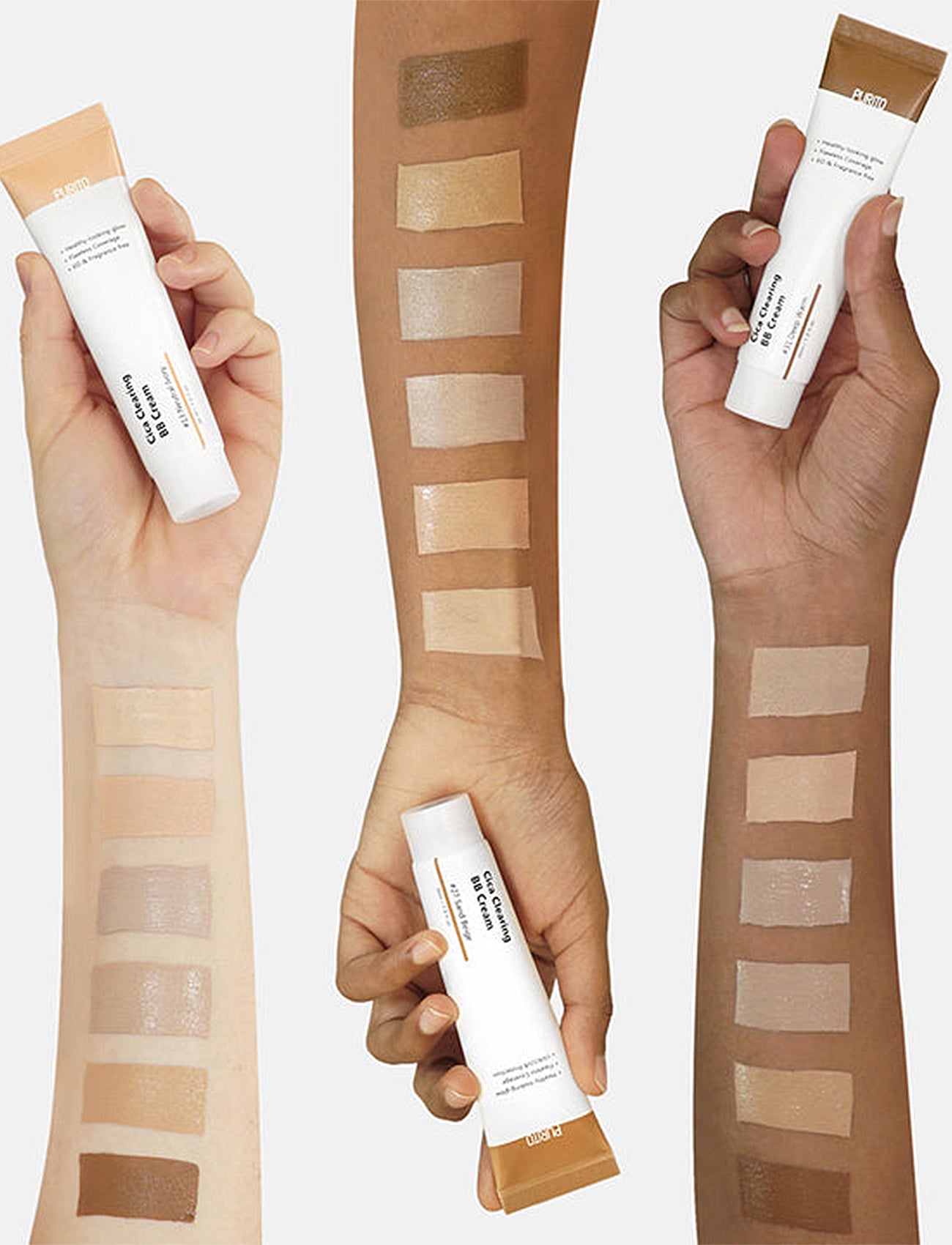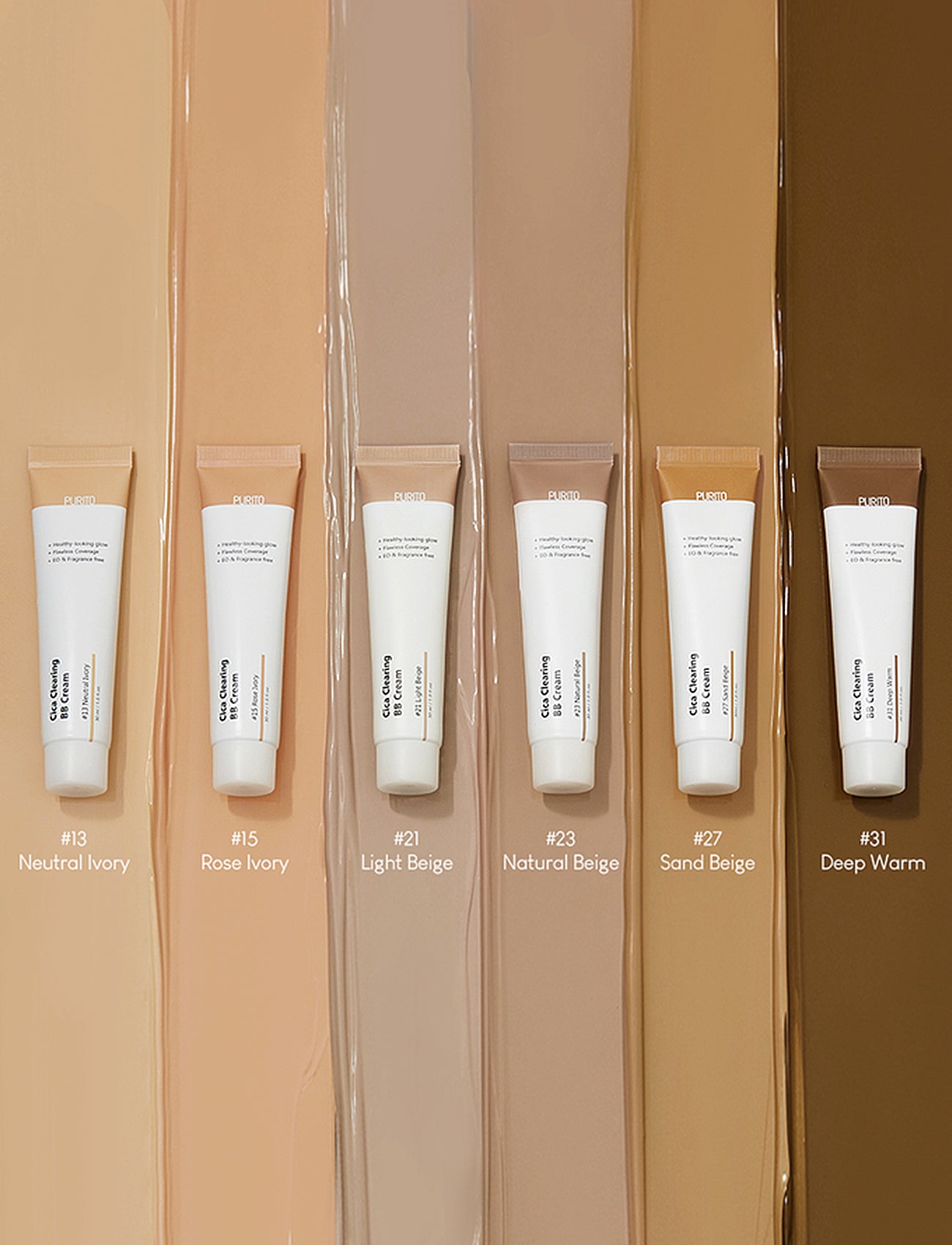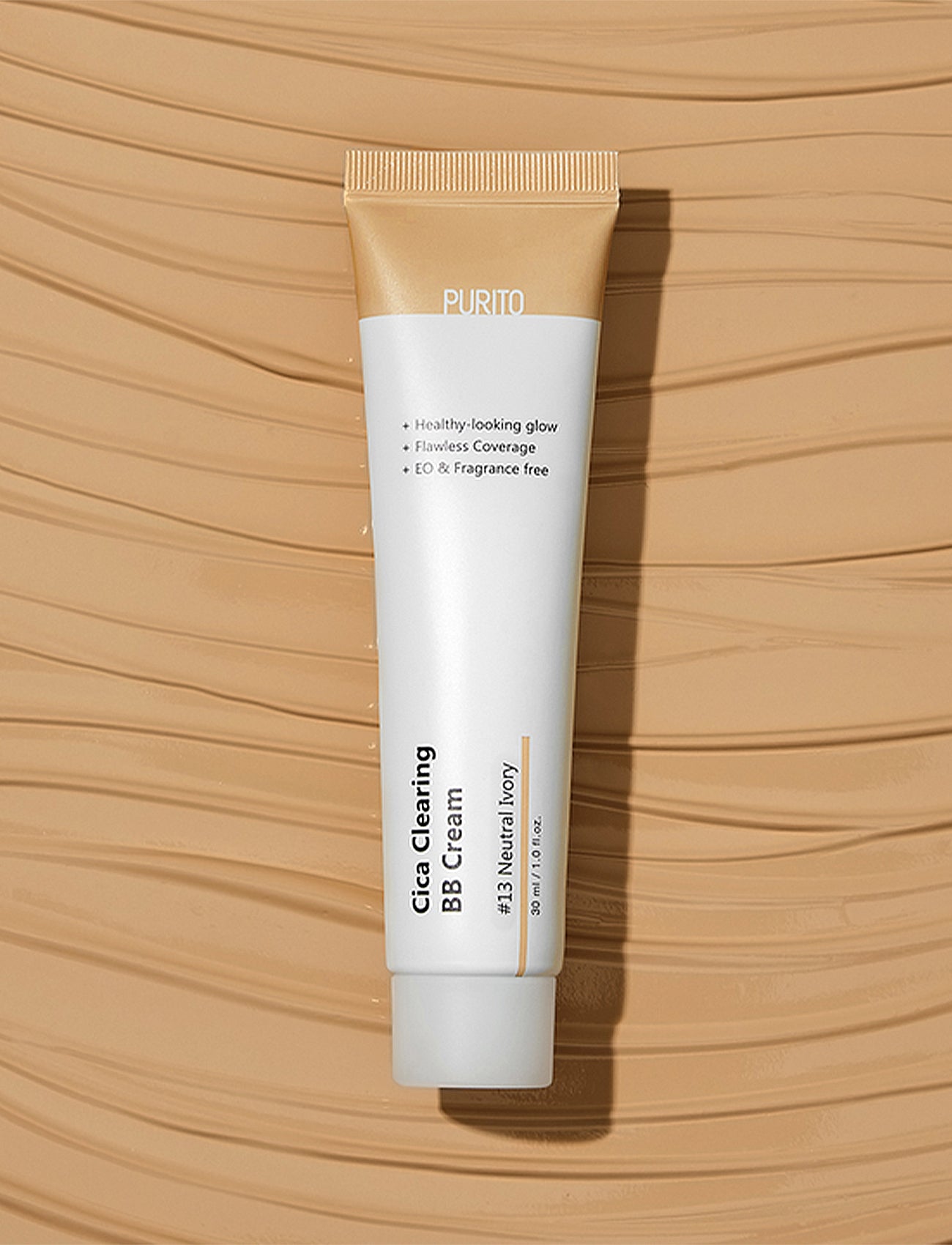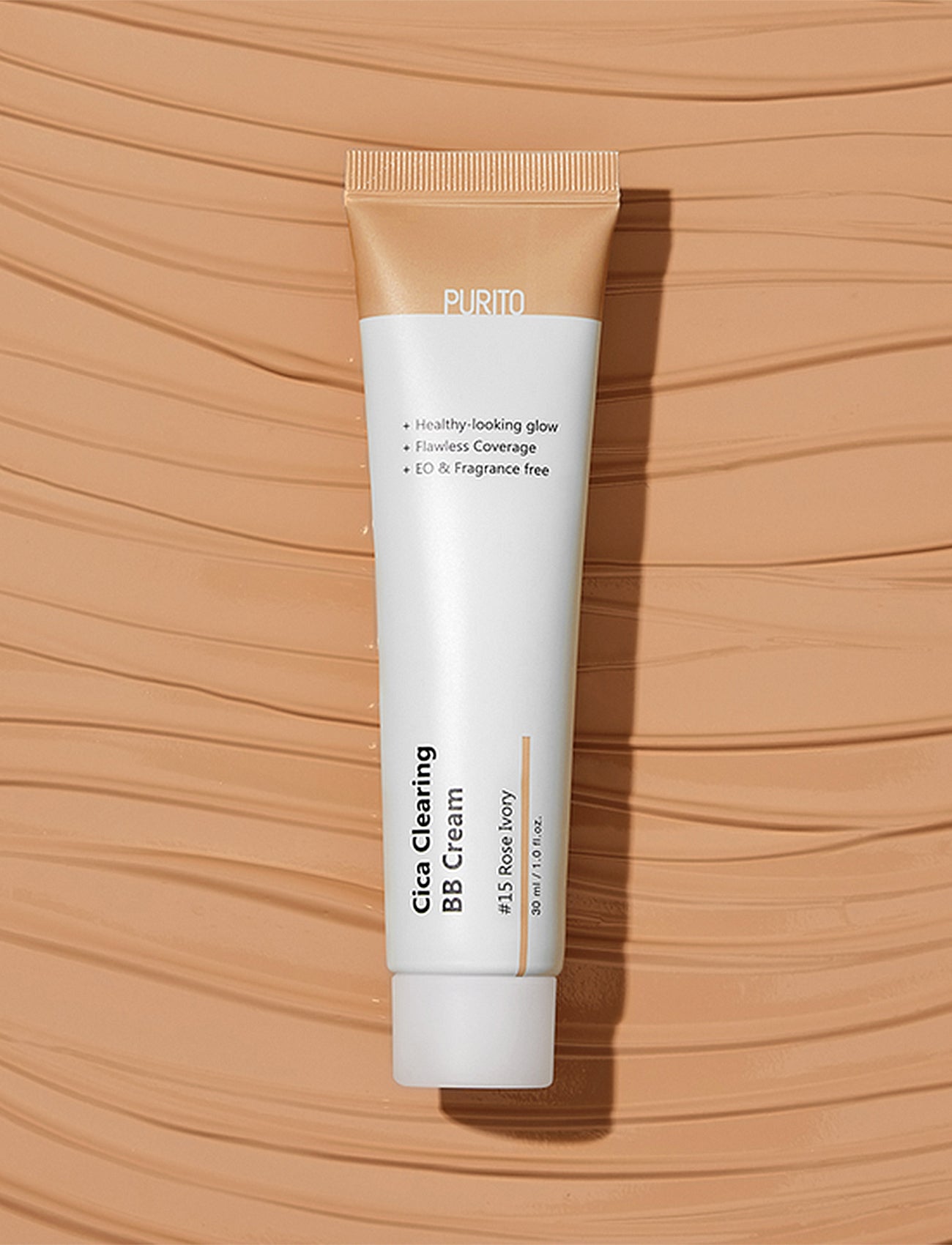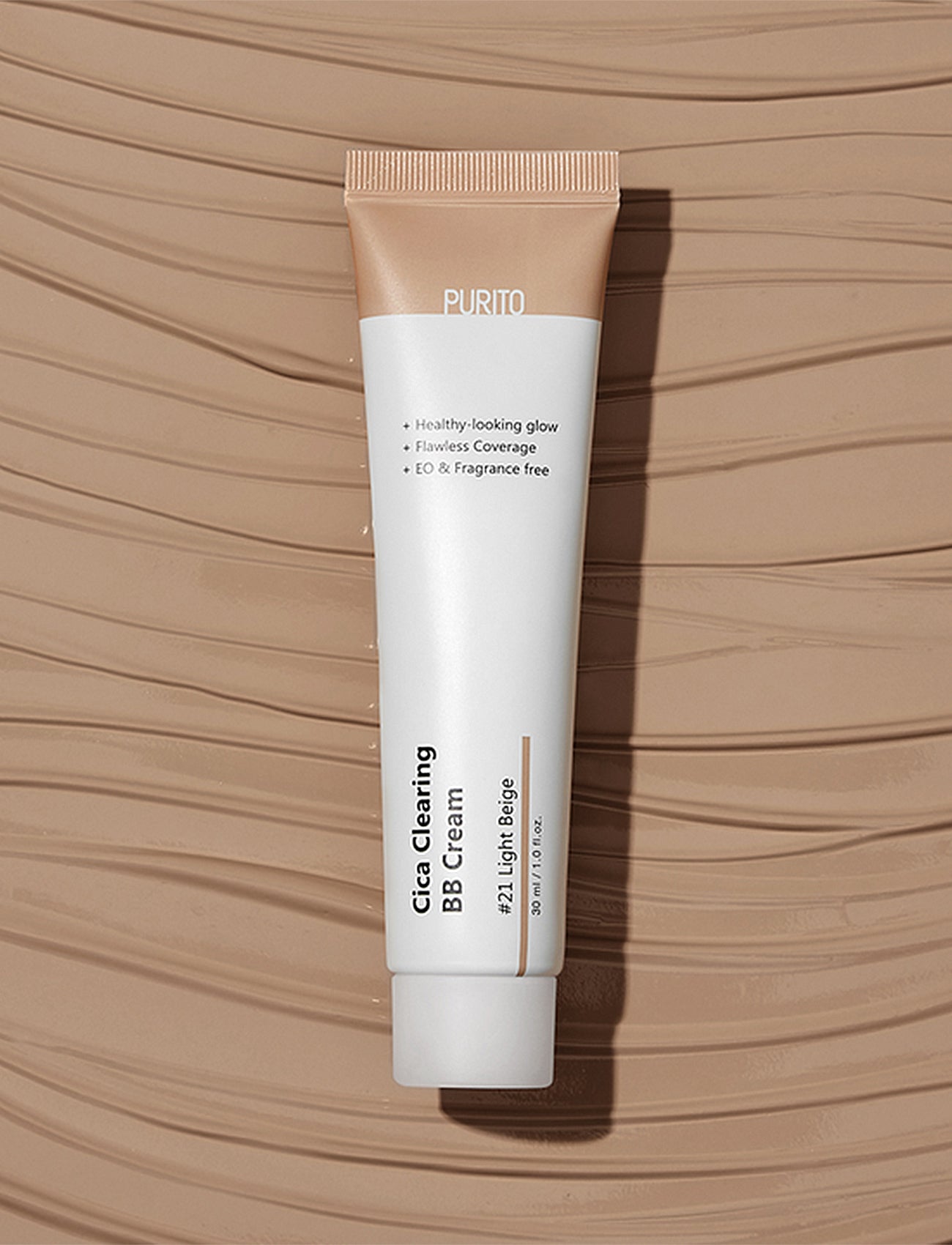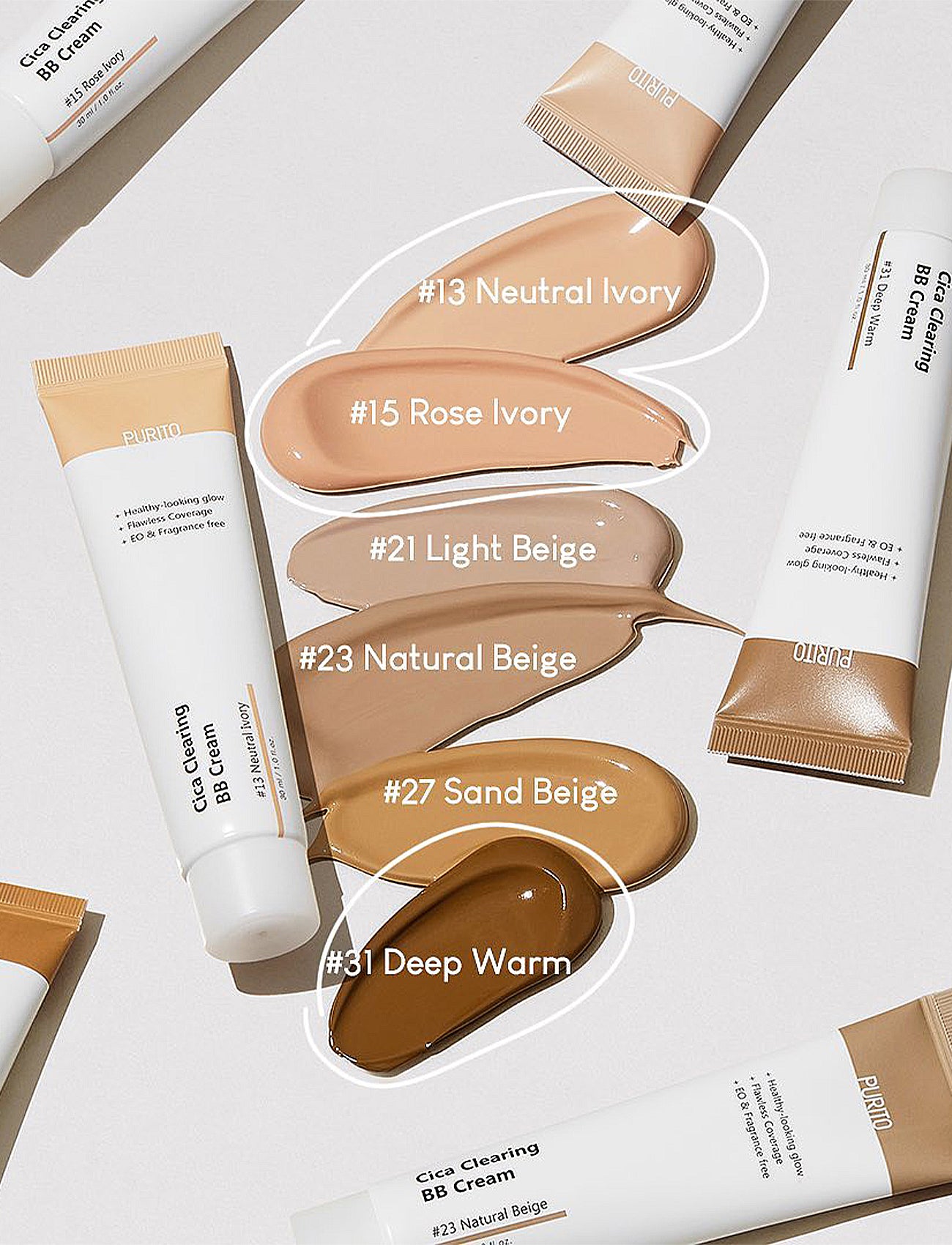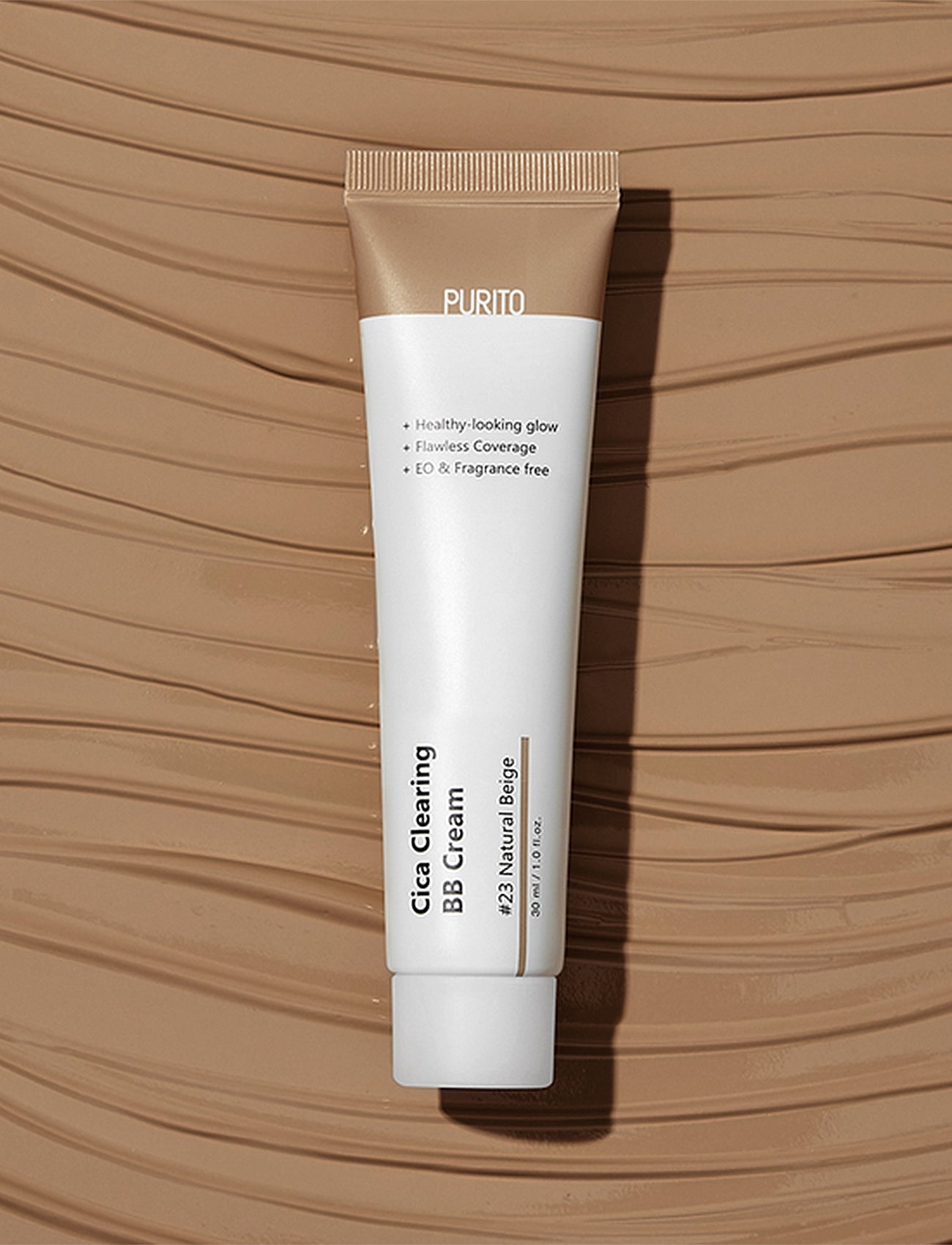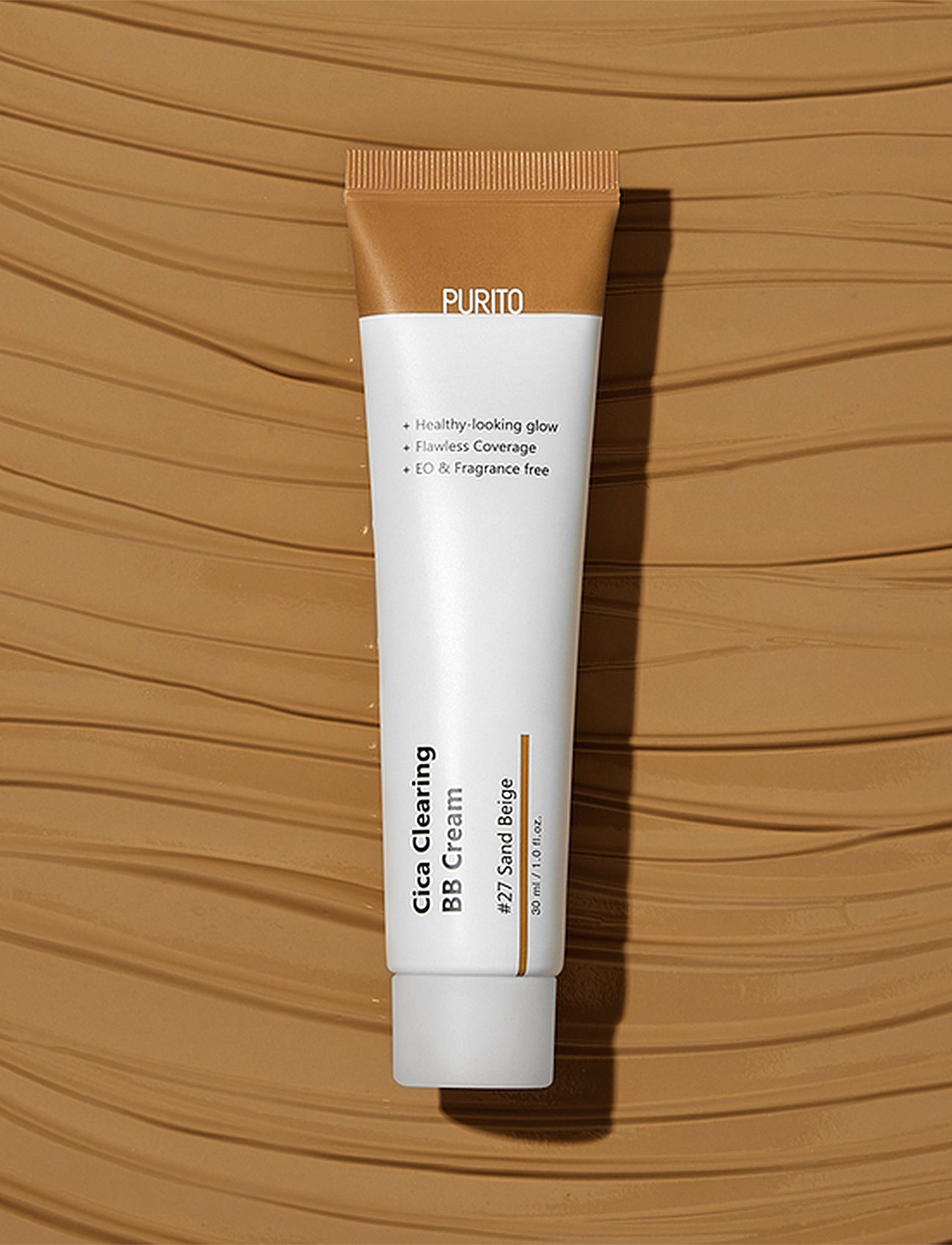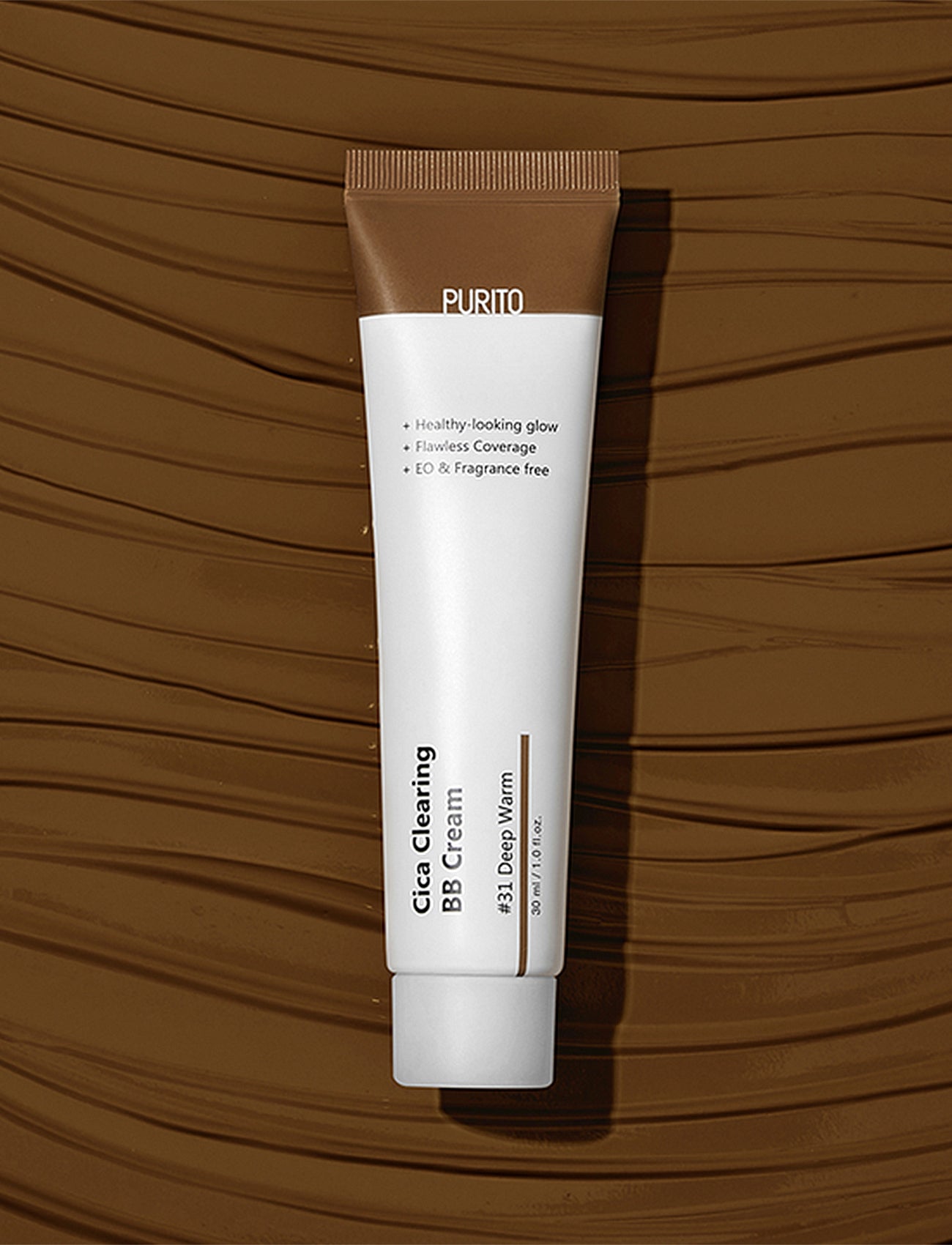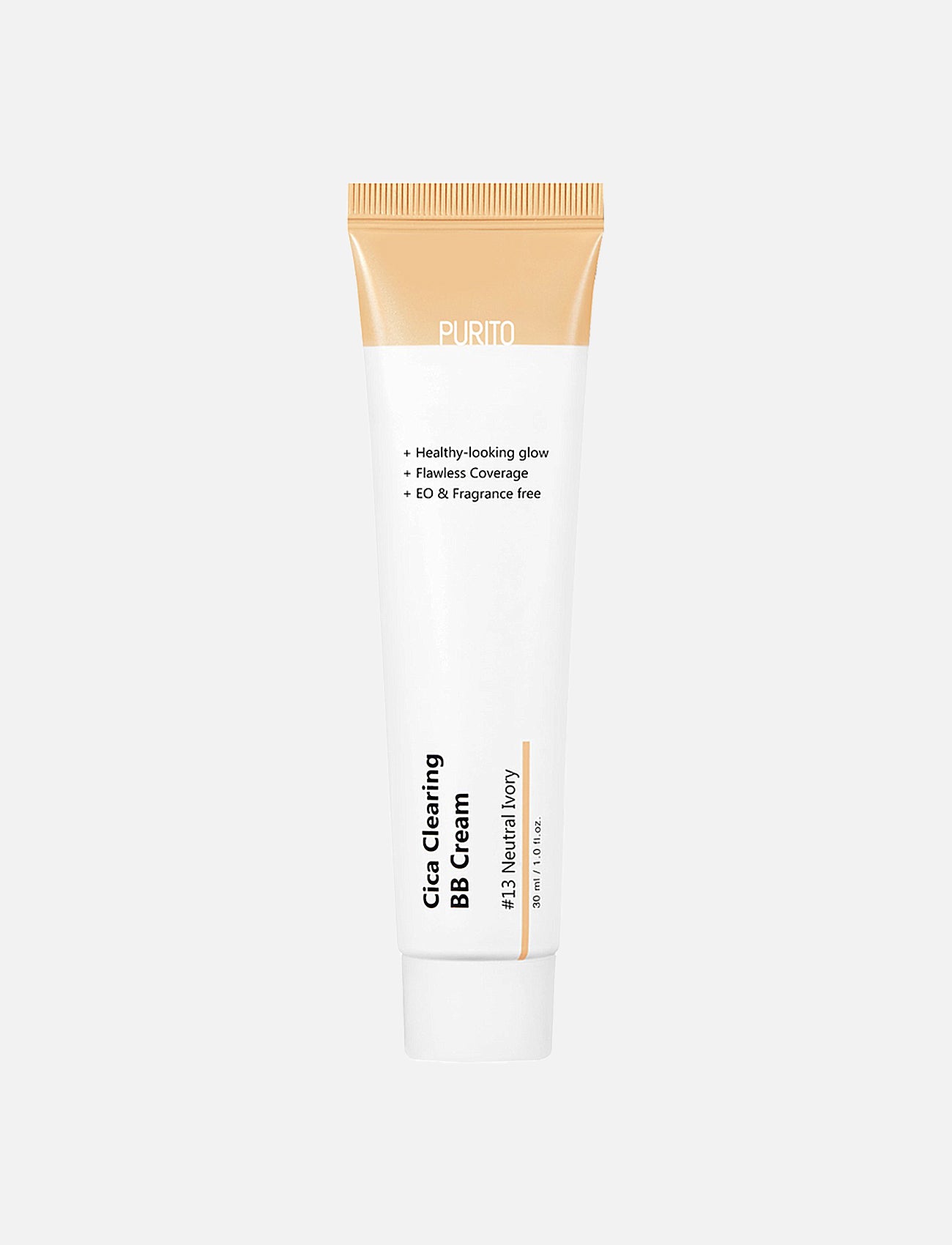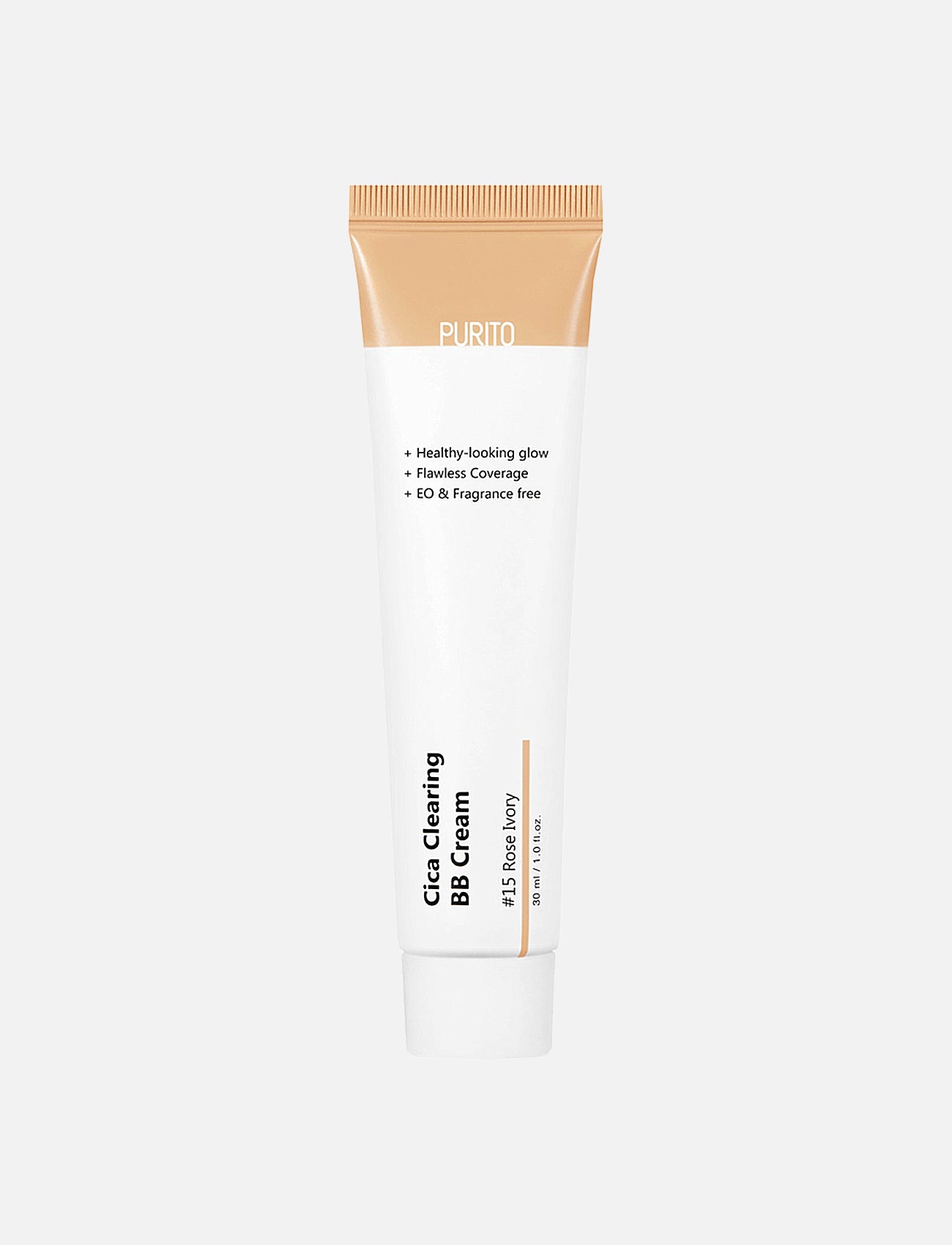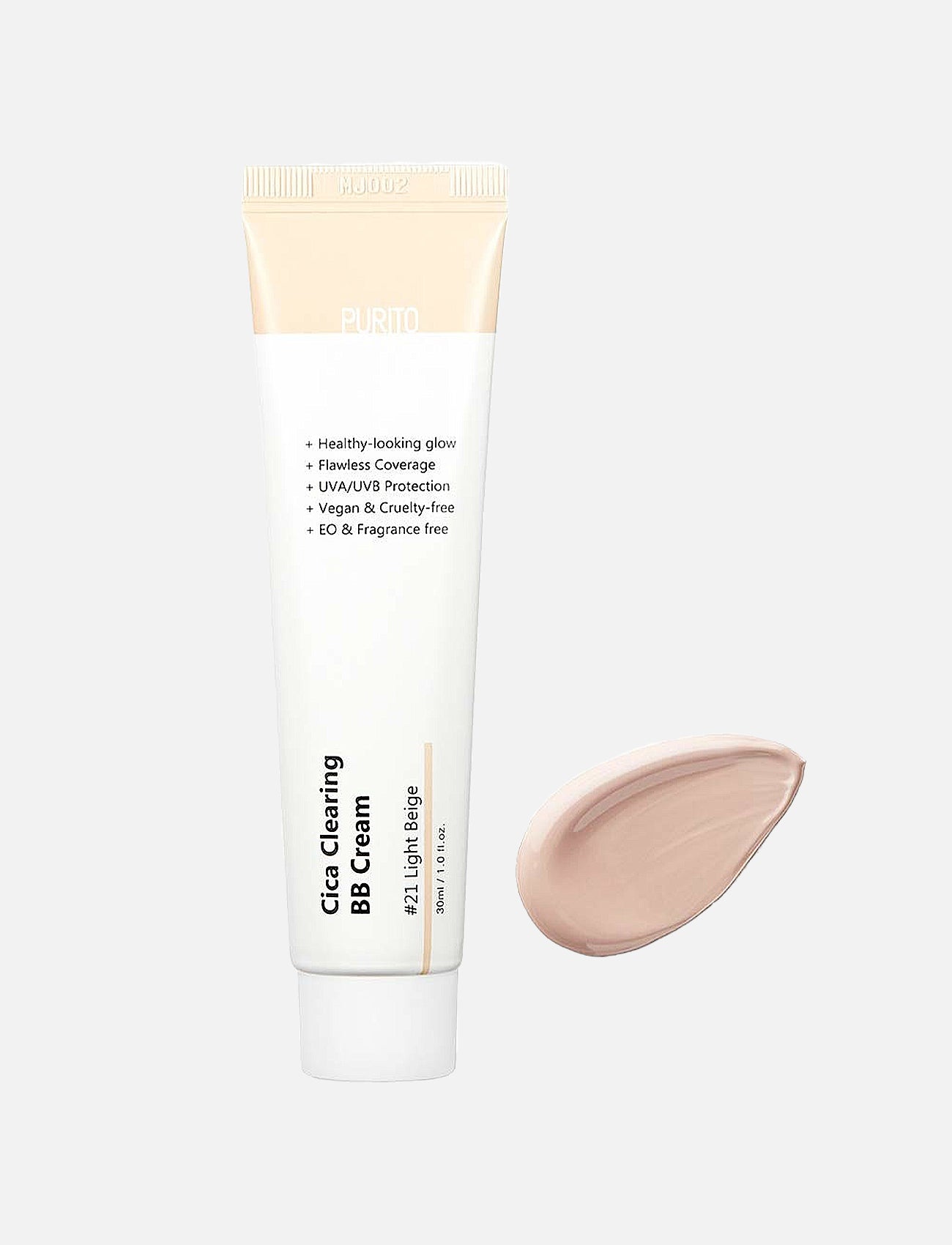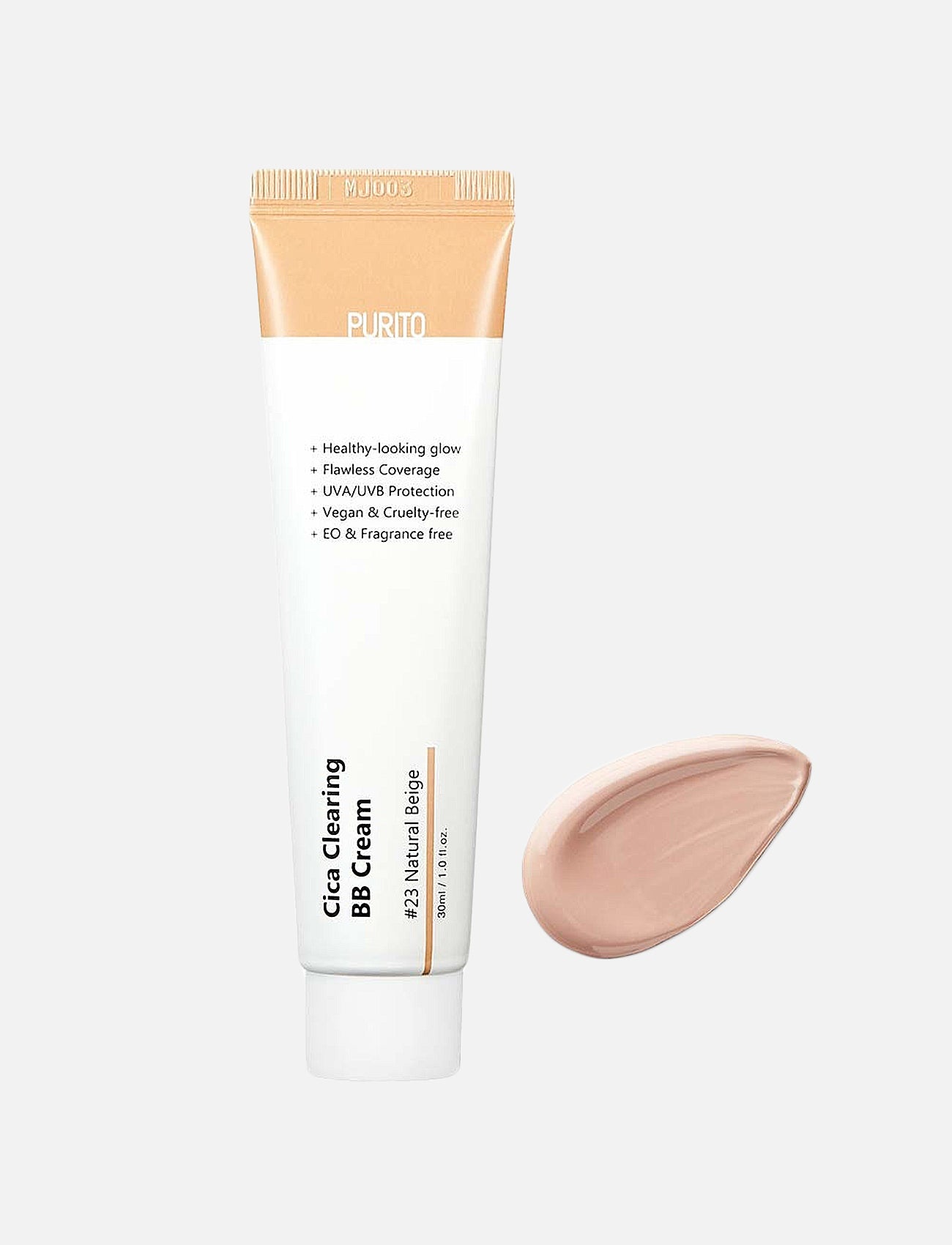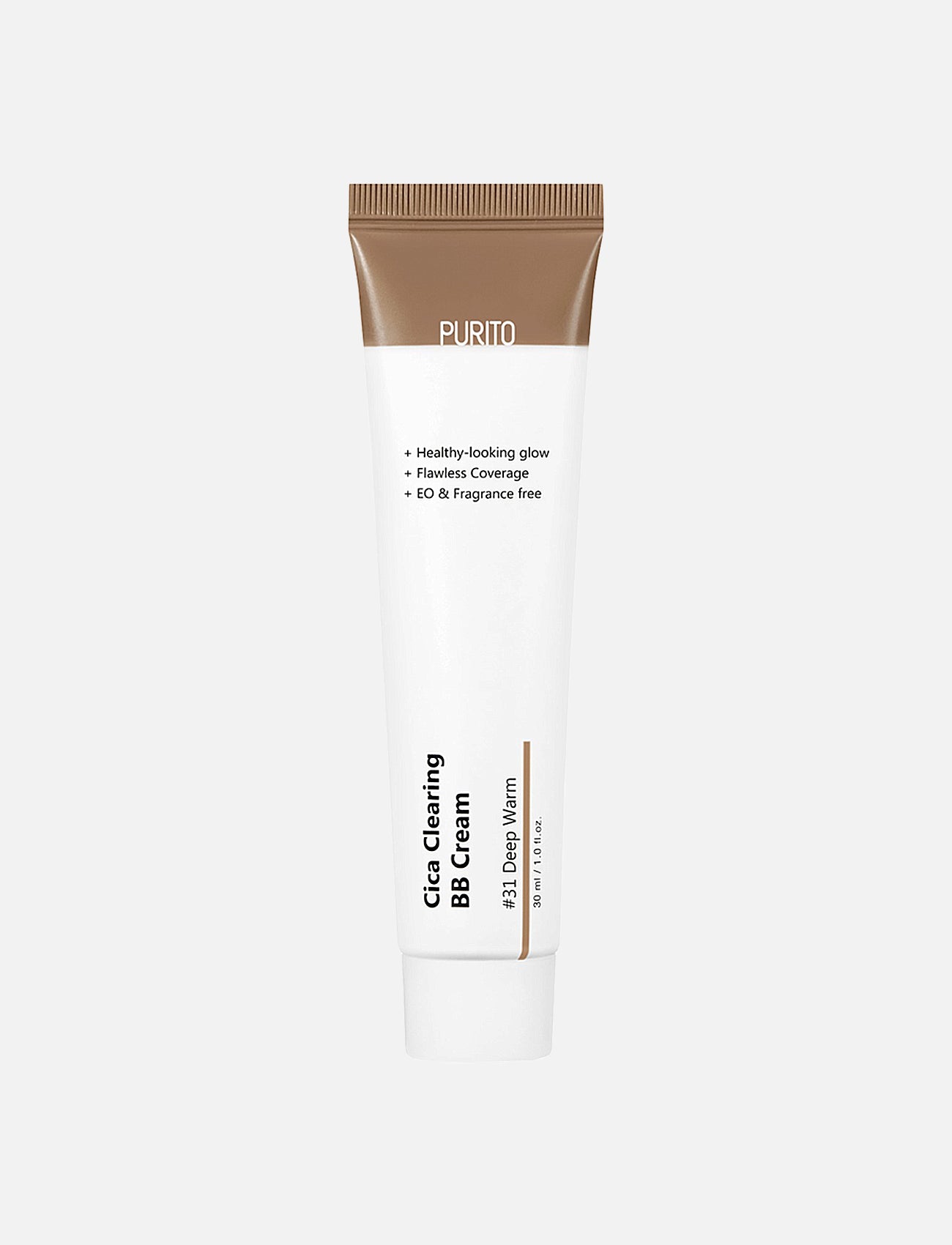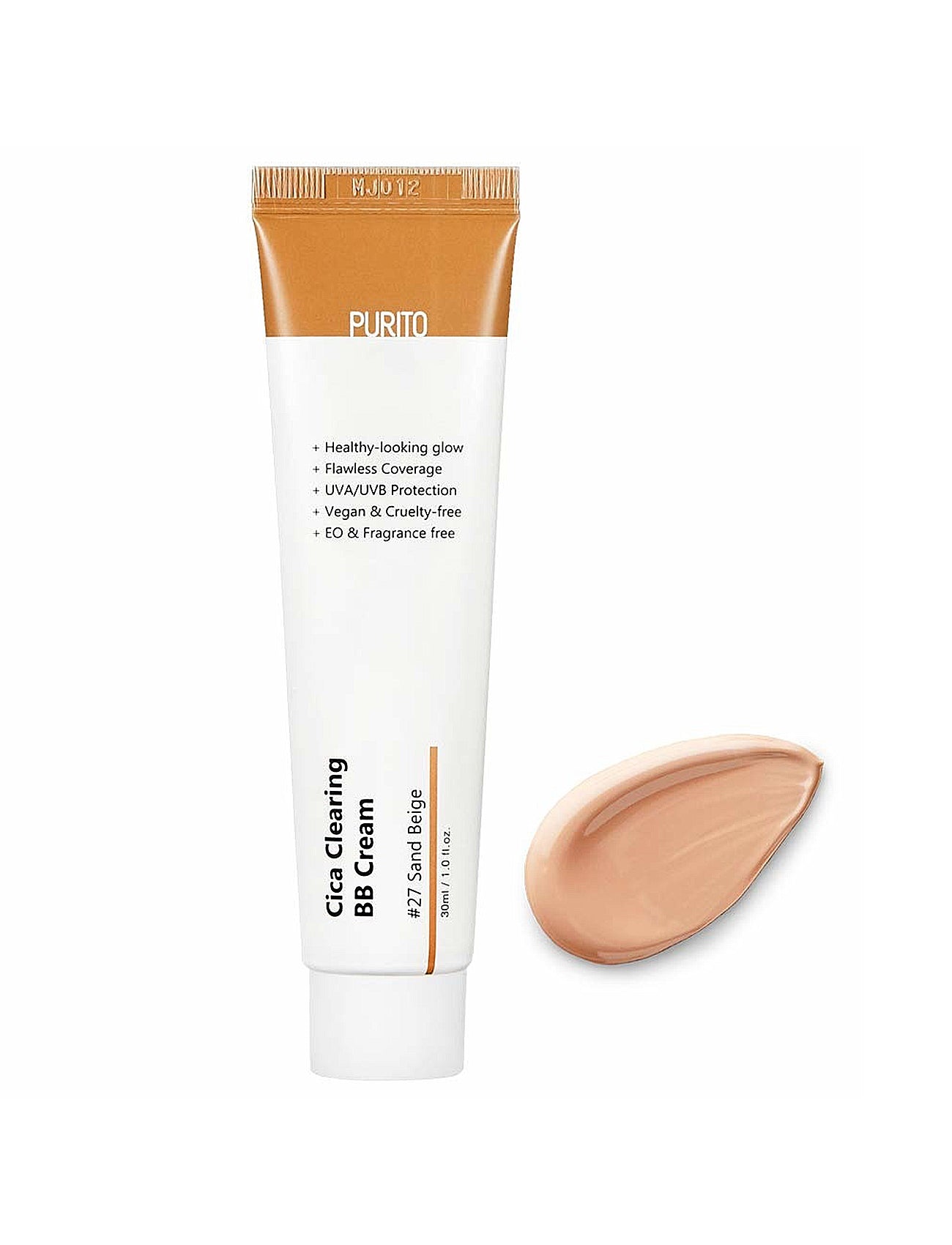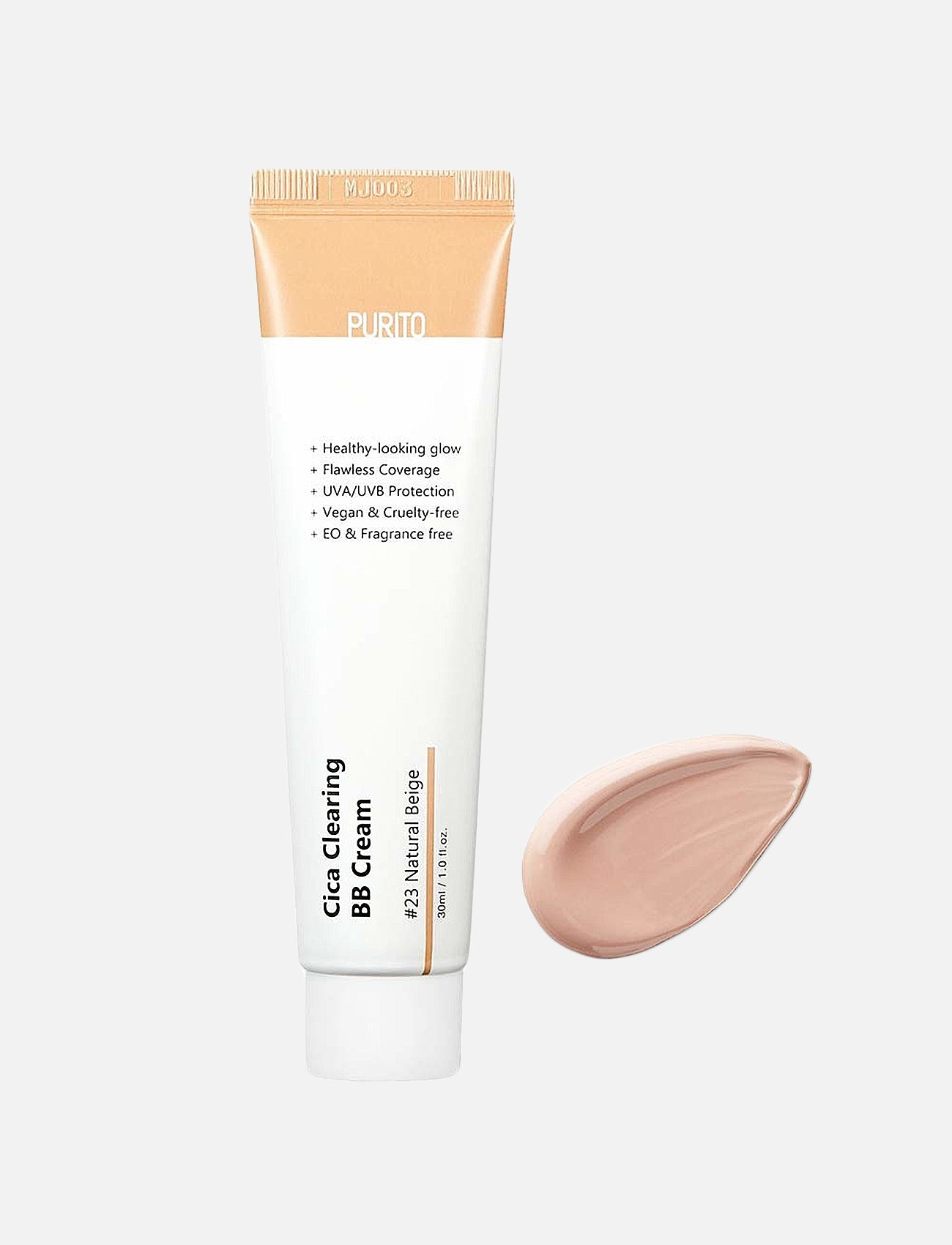 Pay in 30 days (DE only)
Learn more
Delivered in 1-3 working days (DE)
Free shipping from 35€ (DE) 65€ (EU)
The Purito Cica Clearing BB Cream reliably covers small blemishes and looks particularly natural. Specially developed for sensitive skin, the formulation with niacinamide, panthenol, allantoin and centella asiatica provides noticeably more moisture and is intensively soothing at the same time. The BB Cream with a radiant finish gives an even complexion and melts into the skin when applied without settling into fine lines.
Suitable for all skin types.
Apply a small amount of Purito Cica Clearing BB Cream evenly to face and neck after sunscreen. Blend into the neck, hairline and ears.
#13 Neutral Ivory
Water, Titanium Dioxide (CI 77891), Ethylhexyl Methoxycinnamate, Cyclopentasiloxane, Butylene Glycol, Ethylhexyl Salicylate, Cyclohexasiloxane, Lauryl Polyglyceryl-3 Polydimethylsiloxyethyl Dimethicone, Mica, Hydrogenated C6-14 Olefin Polymers, Niacinamide, Zinc Oxide, Sodium Chloride, Iron Oxides (CI 77492), Disteardimonium Hectorite, Sorbitan Sesquioleate, Zinc Stearate, Dextrin Palmitate, Triethoxycaprylylsilane, Aluminum Hydroxide, Iron Oxides (CI 77491), Caprylyl Glycol, Panthenol, Allantoin, Centella Asiatica Extract, Dimethicone/Vinyl Dimethicone Crosspolymer, Iron Oxides (CI 77499), Caprylhydroxamic Acid, Glycerin, Adenosine, 1,2-Hexanediol, Tocopherol, Madecassoside, Asiaticoside,Asiatic Acid, Madecassic Acid

#15 Rose Ivory
Water, Titanium Dioxide (CI 77891), Ethylhexyl Methoxycinnamate, Cyclopentasiloxane ,Butylene Glycol, Ethylhexyl Salicylate, Cyclohexasiloxane, Lauryl Polyglyceryl-3 Polydimethylsiloxyethyl Dimethicone, Hydrogenated C6-14 Olefin Polymers, Niacinamide, Zinc Oxide, Mica, Sodium Chloride, Iron Oxides (CI 77492), Disteardimonium Hectorite, Sorbitan Sesquioleate, Iron Oxides (CI 77491), Zinc Stearate ,Dextrin Palmitate, Triethoxycaprylylsilane, Aluminum Hydroxide, Caprylyl Glycol, Panthenol, Allantoin, Centella Asiatica Extract, Iron Oxides (CI 77499), Dimethicone/Vinyl Dimethicone Crosspolymer, Caprylhydroxamic Acid, Glycerin,Adenosine, 1,2-Hexanediol, Tocopherol, Madecassoside, Asiaticoside, Asiatic Acid, Madecassic Acid

#21 Light Beige
Water, Titanium Dioxide, Ethylhexyl Methoxycinnamate, Cyclopentasiloxane, Butylene Glycol, Ethylhexyl Salicylate, Cyclohexasiloxane, Lauryl Polyglyceryl-3 Polydimethylsiloxyethyl Dimethicone, Niacinamide, Hydrogenated Poly (C6-14 Olefin), Zinc Oxide, Mica, Sodium Chloride, Zinc Stearate, Dextrin Palmitate, Disteardimonium Hectorite, Sorbitan Sesquioleate, Centella Asiatica Extract, Madecassoside, Asiaticoside, Madecassic Acid, Asiatic Acid, Caprylyl Glycol, Triethoxycaprylylsilane, Aluminium Hydroxide, Allantoin, Panthenol, Glycerin, Caprylhydroxamic Acid Dimethicone/Vinyl Dimethicone Crosspolymer, Adenosine, 1,2-Hexanediol, Tocopherol, Iron Oxides Yellow (CI 77492), Iron Oxides Red (CI 77491), Iron Oxides Black (CI 77499), Ultramarines (CI 77007)

#23 Natural Beige
Water, Titanium Dioxide, Ethylhexyl Methoxycinnamate, Cyclopentasiloxane, Butylene Glycol, Ethylhexyl Salicylate, Cyclohexasiloxane, Lauryl Polyglyceryl-3 Polydimethylsiloxyethyl Dimethicone, Niacinamide, Hydrogenated Poly(C6-14 Olefin), Zinc Oxide, Mica, Sodium Chloride, Zinc Stearate, Dextrin Palmitate, Disteardimonium Hectorite, Sorbitan Sesquioleate, Centella Asiatica Extract, Madecassoside, Asiaticoside, Madecassic Acid, Asiatic Acid , Caprylyl Glycol, Triethoxycaprylylsilane, Aluminium Hydroxide, Allantoin, Panthenol, Glycerin, Caprylhydroxamic Acid, Dimethicone/Vinyl Dimethicone Crosspolymer, Adenosine, 1,2-Hexanediol, Tocopherol, Iron Oxides Yellow (CI 77492), Iron Oxides Red (CI 77491), Iron Oxides Black (CI 77499)

#27 Sand Beige
Water, Titanium Dioxide, Ethylhexyl Methoxycinnamate , Cyclopentasiloxane, Butylene Glycol, Ethylhexyl Salicylate, Cyclohexasiloxane, Lauryl Polyglyceryl-3 Polydimethylsiloxyethyl Dimethicone, Niacinamide, Hydrogenated Poly (C6-14 Olefin), Zinc Oxide, Mica, Sodium Chloride, Zinc Stearate, Dextrin Palmitate, Disteardimonium Hectorite, Sorbitan Sesquioleate, Caprylyl Glycol, Triethoxycaprylylsilane, Aluminium Hydroxide, Allantoin, Panthenol, Glycerin, Caprylhydroxamic Acid, Centella Asiatica Extract, Dimethicone/Vinyl Dimethicone Crosspolymer, Adenosine, 1,2-Hexanediol, Tocopherol, Madecassoside, Asiaticoside, Madecassic Acid, Asiatic Acid, Iron Oxides Yellow (CI 77492), Iron Oxides Red (CI 77491), Iron Oxides Black (CI 77499)

#31 Deep Warm
Water, Iron Oxides (CI 77492) ,Ethylhexyl Methoxycinnamate, Butylene Glycol, Cyclopentasiloxane, Ethylhexyl Salicylate, Lauryl Polyglyceryl-3 Polydimethylsiloxyethyl Dimethicone, Hydrogenated C6-14 Olefin Polymers, Niacinamide, Zinc Oxide, Cyclohexasiloxane, Titanium Dioxide (CI 77891), Iron Oxides (CI 77491), Iron Oxides (CI 77499), Sodium Chloride, Disteardimonium Hectorite, Sorbitan Sesquioleate, Mica, Triethoxycaprylylsilane, Zinc Stearate, Dextrin Palmitate, Caprylyl Glycol, Panthenol, Allantoin, Centella Asiatica Extract, Dimethicone/Vinyl Dimethicone Crosspolymer, Aluminum Hydroxide, Caprylhydroxamic Acid, Glycerin, Adenosine,1,2-Hexanediol, Tocopherol, Madecassoside, Asiaticoside, Asiatic Acid, Madecassic Acid
5-Sterne-Bewertungen insgesamt: 4
4-Sterne-Bewertungen insgesamt: 0
3-Sterne-Bewertungen insgesamt: 0
2-Sterne-Bewertungen insgesamt: 0
1-Sterne-Bewertungen insgesamt: 0
Dina C.

Verifizierter Käufer

Ich empfehle dieses Produkt

I had light beige but neutral Ivory for very white skin is better

I love this BB cream and I buy it 3rd time. I don't know if I will switch to something else soon because I'm not even interested to try something different. It looks natural on the face and covers pretty well at the same time. Moreover, I don't breakout from it. Thanks ❤️

Sorcha B.

Verifizierter Käufer

Ich empfehle dieses Produkt

Sehr gut

Ich bin sehr zufrieden meine Haut hat sich seit dem ich die Produkte benutzte verbessert

Karin P.

Verifizierter Käufer

Ich empfehle dieses Produkt

Eine tolle Ergänzung zu meiner Hautpflege

Unebenheiten werden mit diesem Produkt fantastisch ausgeglichen.

Samtig weiche Haut

Toll

Dagmar B.

Verifizierter Käufer

Ich empfehle dieses Produkt

Schöner Ton

Gefällt mir sehr gut, man sieht nicht angemalt aus, schön natürlich, gut für meine trockene Haut
Rezensionen geladen
Rezensionen hinzugefügt