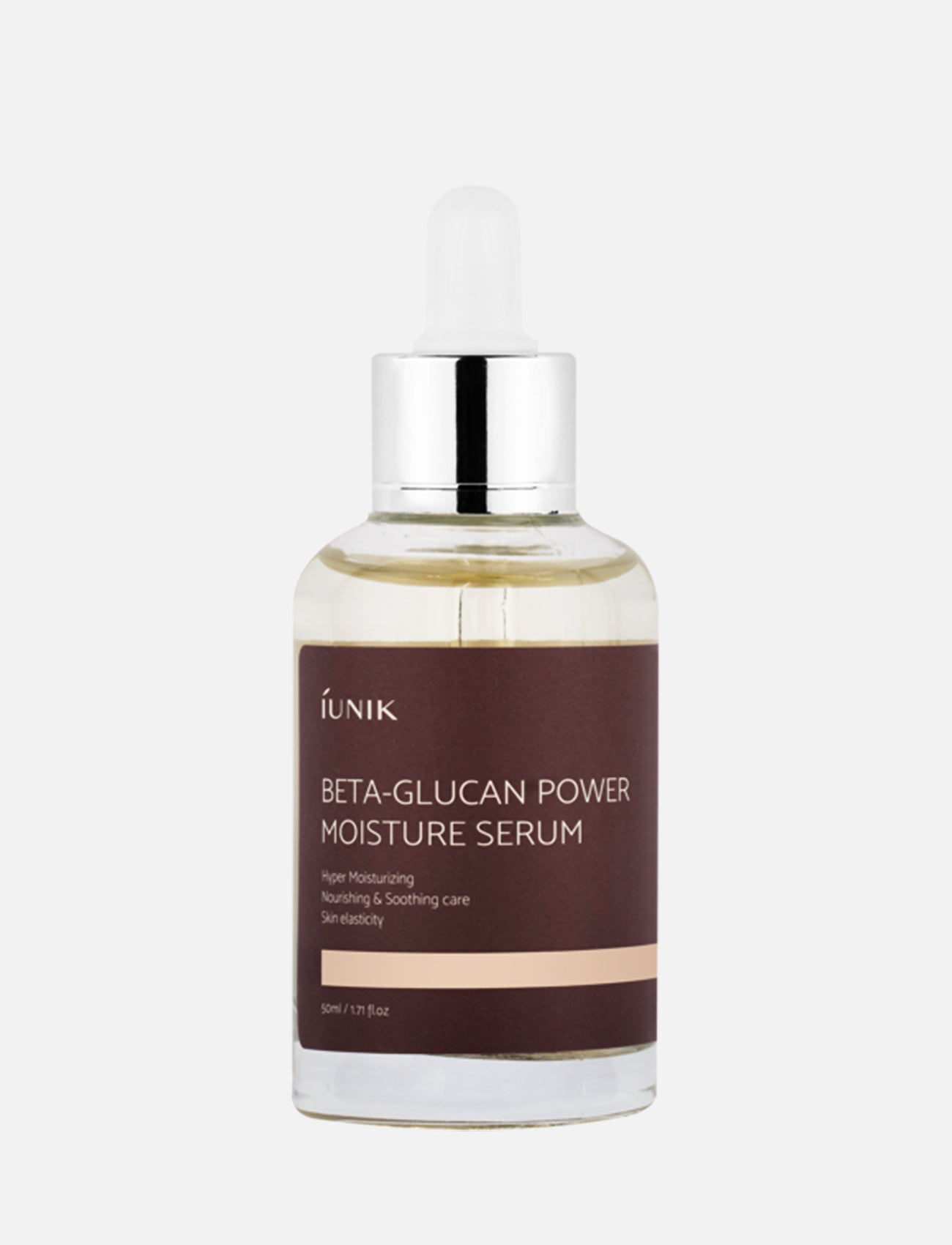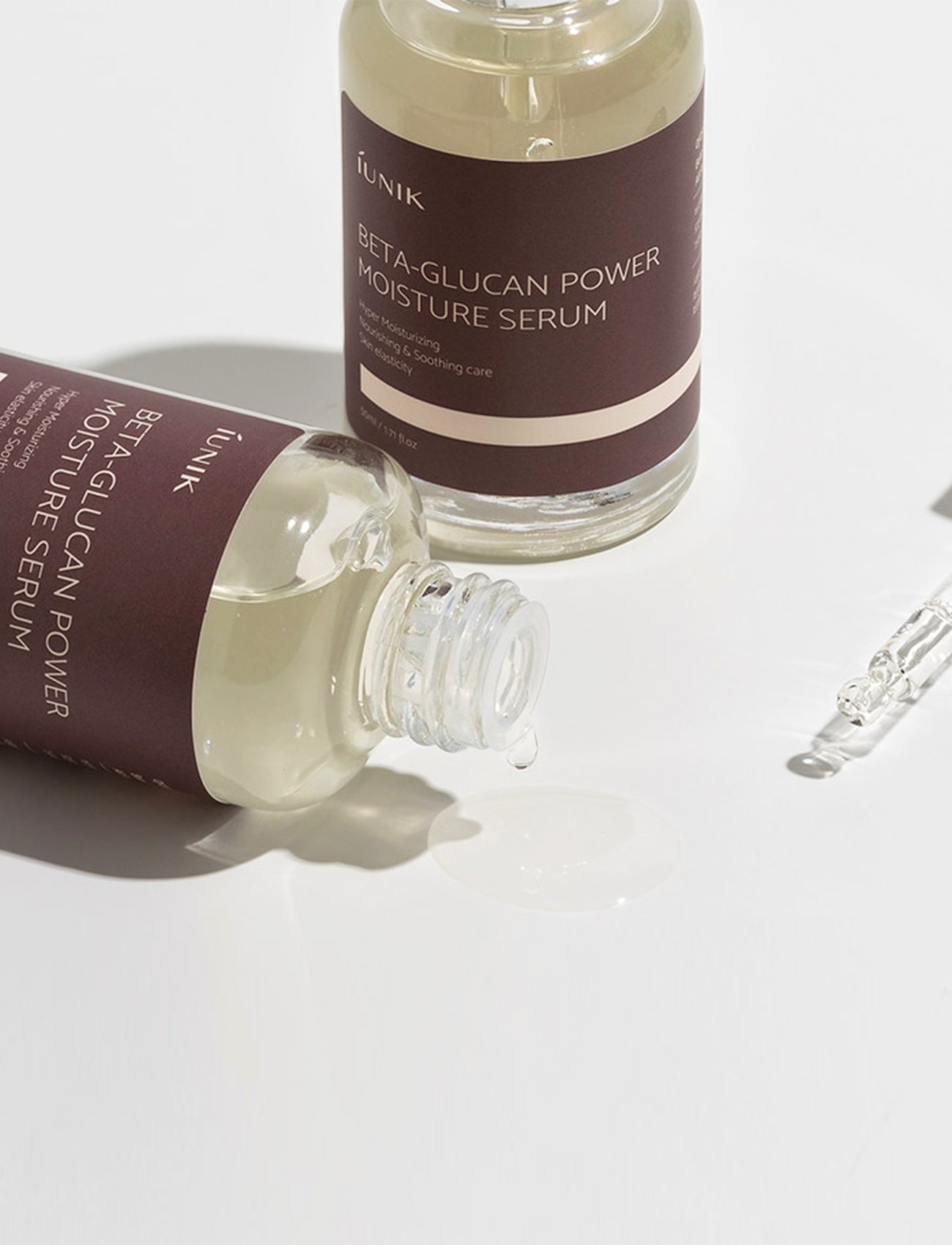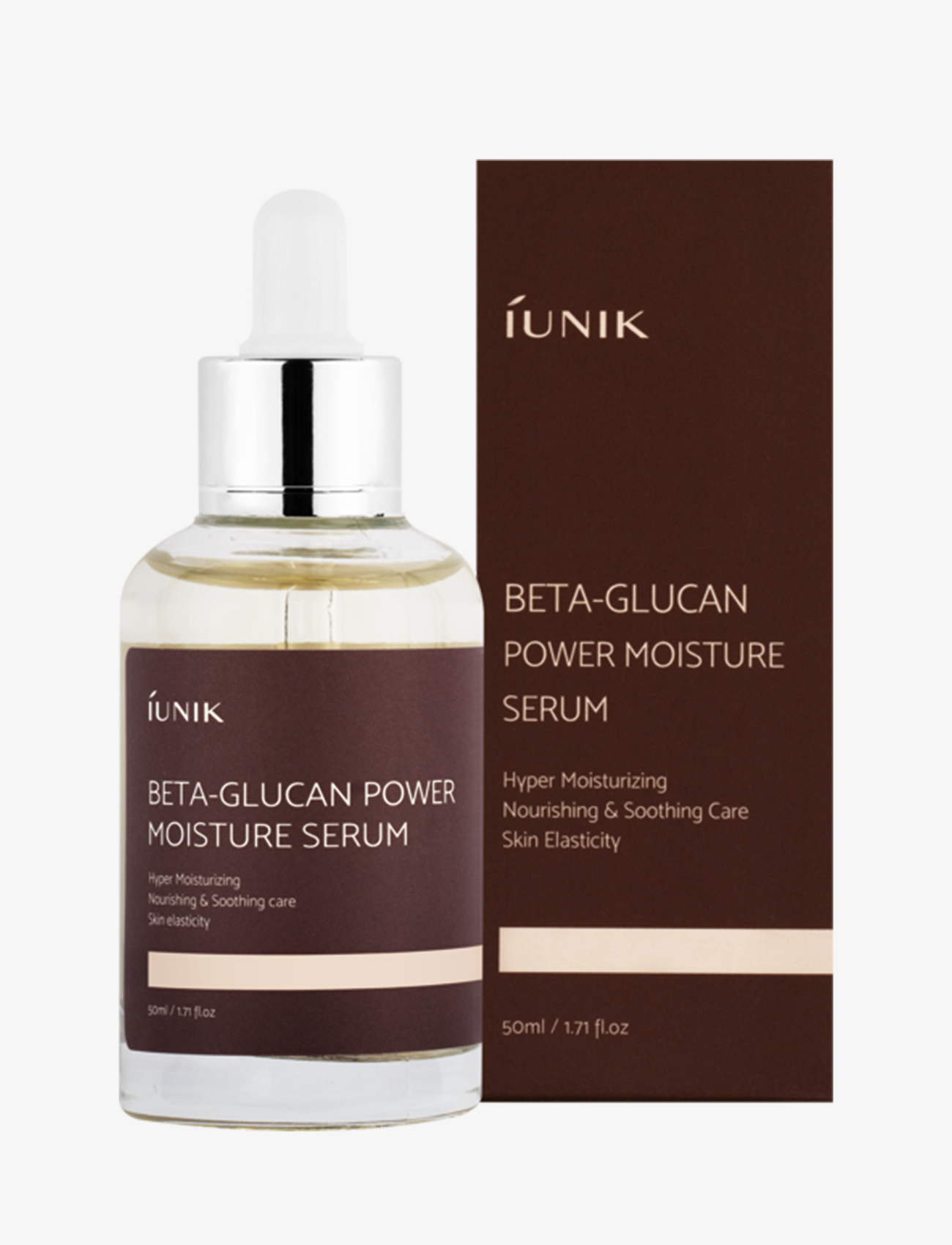 Beta Glucan Power Moisture Serum
Pay in 30 days (DE only)
Learn more
Delivered in 1-3 working days (DE)
Free shipping from 35€ (DE) 65€ (EU)
Dive into a sea of nourishing moisture and feel the gentle iUNIK Beta-Glucan Power Moisture Serum glide over your skin. Absorbs quickly, keeping your skin hydrated throughout the day or supporting skin regeneration overnight. Non-sticky and adds 20% more moisture than hyaluronic acid.

98% Beta-Glucan makes your skin plumper and smoother, this improves the appearance of fine lines and wrinkles. It supports the natural skin barrier, relieving irritation and redness.
Suitable for every skin type.
Apply the iUNIK Beta-Glucan Power Moisture Serum evenly to the face, neck and chest area.
Water, Butylene Glycol, 1,2-Hexanediol, Beta-Glucan, Sodium PCA, Ethylhexylglycerin
5-Sterne-Bewertungen insgesamt: 5
4-Sterne-Bewertungen insgesamt: 1
3-Sterne-Bewertungen insgesamt: 0
2-Sterne-Bewertungen insgesamt: 0
1-Sterne-Bewertungen insgesamt: 0
Sophie

Verifizierter Käufer

Ich empfehle dieses Produkt

Hautanliegen

Rötungen,

Empfindliche Haut

Tolles Produkt

Das Produkt ist ein absolutes Must-have für jeden Hauttypen, vor allem für trockene, gereizte Haut oder Personen, welche keine Hyaluronsäure vertragen. Absolute Empfehlung!

Julia

Verifizierter Käufer

Ich empfehle dieses Produkt

Hautanliegen

Trockene Haut,

Empfindliche Haut,

Rötungen

Hilft super bei sehr trockener Haut

Benutze ich unter der Feuchtigkeitscreme, da nur die Creme alleine leider noch zu spannender Haut führt. Zusammen habe ich aber ein super angenehmes und weiches Hautgefühl 🥹🙏

Chaline B.

Verifizierter Käufer

Ich empfehle dieses Produkt

Hautanliegen

Trockene Haut,

Empfindliche Haut,

Pickel & Mitesser

Sehr feuchtigkeitsspendend!

Ich nutze es noch nicht lange, aber es triggert bei mir nur Positives!

Sehr angenehm, meine Haut trinkt das Zeug quasi weg! Creme drüber und morgens weiches Gesicht. Herrlich! Habe es als Alternative zu allen Peptide Boostern und Ceramide Treatments dieser Welt bestellt und bin happy, denn die Anderen triggern bei mir Unterlagerungen. Leider.

Liebäugele schon mit der Creme zum gleichen Produkt ✌🏼

Tanja D.

Verifizierter Käufer

Ich empfehle dieses Produkt

Super für trockene Haut

Ich hab mir das Serum jetzt schon nachgekauft, weil es mich so sehr überzeugt hat . Ich habe sehr trockene Haut, und es versorgt mich sehr gut mit Feuchtigkeit .

Tanja D.

Verifizierter Käufer

Ich empfehle dieses Produkt

Spendet gut Feuchtigkeit

Ich finde schon, dass sich meine Haut nach ca 3 Wochen besser anfühlt. Und ich vertrage das Serum auch super, jedoch habe ich einen kleinen Kritikpunkt . Wenn ich es über einen Toner auftrage, fängt es an leicht zu schäumen, wenn ich nicht aufpasse . Ansonsten bin ich sehr zufrieden damit
Rezensionen geladen
Rezensionen hinzugefügt